ADDED SERVICE BRINGS ADDED VALUE – ALL FROM A SINGLE SOURCE
At Junior Kühlkörper, you'll receive a comprehensive service that covers all aspects of your precision component. From the initial drawing through to delivery of our ready-to-fit components, we'll provide the expertise you need from a partner. You'll have a fully trained member of staff as a contact for all your requirements, so that you can give your full attention to your core business – and get your own products onto the market faster.
THE ESSENTIALS
Machining of drawing parts on advanced CNC machines

Prototype creation

Further processing: Assembly, gluing, foaming of seals and surface refinement

Welding systems for extra-wide solutions

In-house toolmaking workshop for the necessary clamping devices

48-hour deliveries from our high performance logistics centre

Ample capacity for long-term partnership collaborations
WELDING TECHNOLOGY

Junior Kühlkörper uses modern robotic welding systems to join together extra-wide extruded sections. Our expert welding shop has DIN EN 15085-2 certification and is therefore approved to weld railway vehicles and components.
GLUING
Where the cooling fins of a heatsink are arranged too densely to allow them to be produced by applying the extrusion process, they are glued onto the base plate manually. Junior Kühlkörper has the necessary stamping technology to produce the cooling fins, as well as years of experience in this process to provide you with optimum results.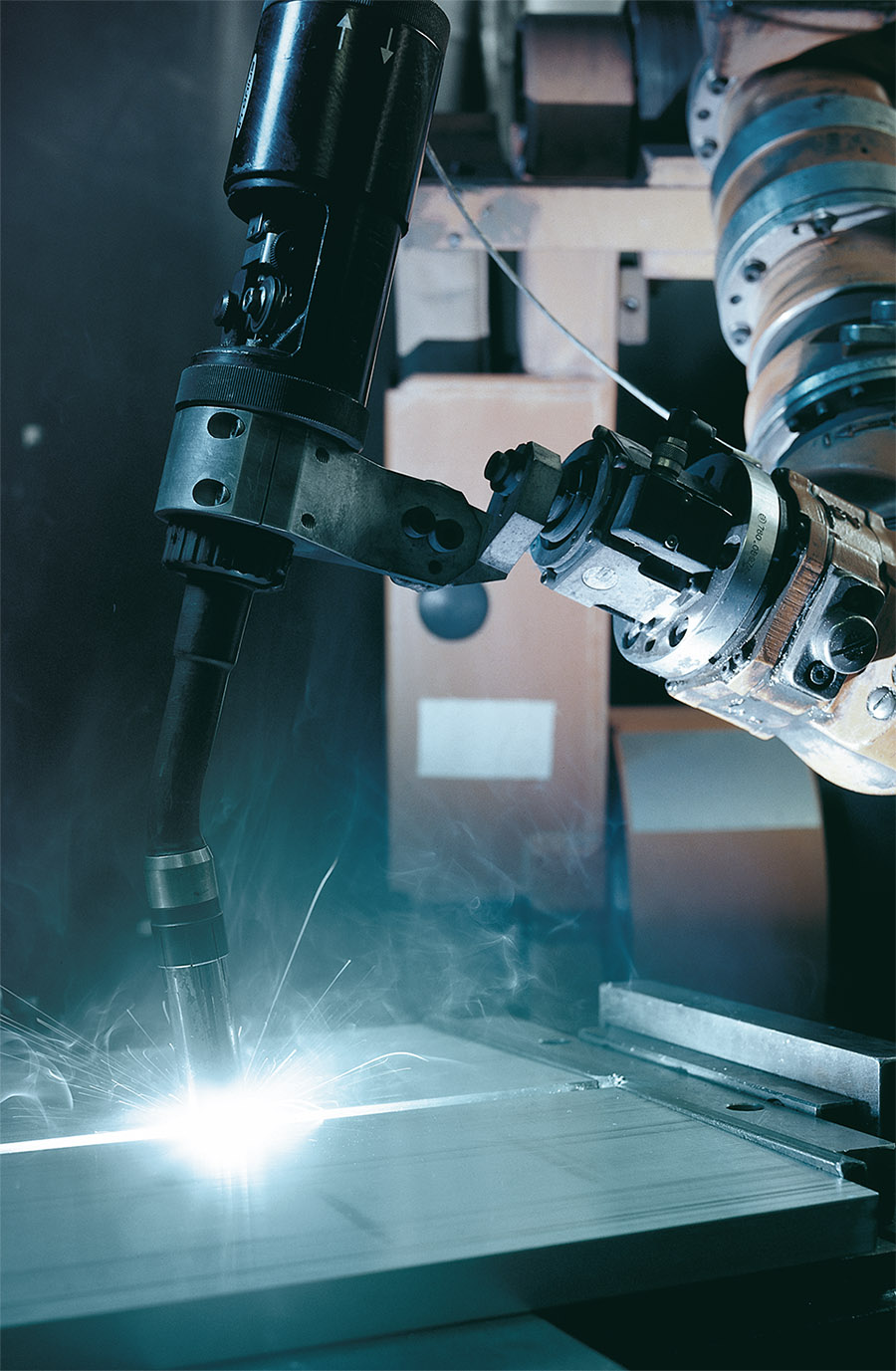 ASSEMBLY
Furthermore, we offer a wide variety of assembly work – for example, pressing in threaded bushes and spacer bolts or assembling complete components. Just come and talk to us.
PU SEAL
We use state-of-the-art technology to expand a special polyurethane seal directly into the recess of the component. This allows components to be modified as required for their flow properties, reactivity and colour. It also improves protection against moisture, dust and other harmful effects. The seal makes an excellent adhesive bond with the component and demonstrates outstanding long-term behaviour, making it ideal for industrial components in permanent use. The material can be applied in 2 and 3-dimensional form. Polyurethane foam can be used to seal practically any form or geometry.
SURFACE FINISHES
Depending on your requirements, your precision component or heatsink can be supplied with a special surface finish to optimise conductivity and protect against corrosion.
Anodising

Chromating

Powder-coating

Nickel-plating

Tin-coating

Gold-plating

Silver-plating

Shot-peening

Other finishes on request